Powder Puff, Socker Stocker, & Compact Combat Racing, 1 on 1 Drags PLUS Spectator 25 Lapper, Figure 8 & Demo
NEW FOR 2020:  The Class running the 25 lapper, Figure 8 & Demo will draw for their Trophy Dash & 25 Lap Feature Placement.  All other classes with Qualify for their trophy dash, heat & feature placement.
Purchase tickets here
Please present your order confirmation/receipt along with a government issued photo ID at Will Call on the date of the event to receive your tickets.
Tickets may also be purchased at the gate on the day of the event.
If the event cancels prior to the gates opening, refunds will be issued.
If rain checks are issued, you will be allowed to use the rain checks for 1 of the next 4 regular events.
If you're interested in being a Guest National Anthem singer, sign up here
If you're interested in bringing scouts, sign up here
5:30pm – Pits Open on Fridays
Pit Passes – $30 for ages 14 & Above
Child Fast Passes – $15 for ages 3-13, Adult Fast pass $20 ages 14 & up
6pm – General Admission Gate Opens
General Admissions Ticket Prices*:
$12 for Adults, $5 for Kids 5-11, & Kids under 5 are Free.
6:30pm – Time Trials (Qualifying & Hot Laps)
Races to Follow (typically 7:30pm)
Please Note:
All Demolition Derbies are the LAST event of the evening
NO OUTSIDE FOOD OR DRINKS ALLOWED!  CASH ONLY.  ATM ON SITE.
CREDIT CARDS ACCEPTED AT THE SOUVENIR STAND & PIT SHACK ONLY.
(credit card surcharges will apply).
NO EXCEPTIONS
It's Free to Download and is the home to specials, discounts & more!  Download yours today and allow for notifications to stay in the loop at Sycamore Speedway!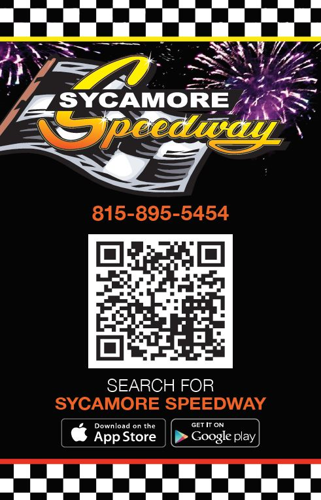 [