Powder Puff, Spectator, & Socker Stocker Racing, 1 on 1 Drags & Compact Combat 25 Lapper, Figure 8 & Demo
NEW FOR 2020:  The Class running the 25 lapper, Figure 8 & Demo will draw for their Trophy Dash & 25 Lap Feature Placement.  All other classes with Qualify for their trophy dash, heat & feature placement.
5:30pm – Pits Open on Fridays
Pit Passes – $30 for ages 14 & Above
Fast Passes – $15 for ages 2 and Above
6pm – General Admission Gate Opens
General Admissions Ticket Prices*:
$12 for Adults, $5 for Kids 5-11, & Kids under 5 are Free.
6:30pm – Time Trials (Qualifying & Hot Laps)
Races to Follow (typically 7:30pm)
Please Note:
All Demolition Derbies are the LAST event of the evening
NO OUTSIDE FOOD OR DRINKS ALLOWED!  CASH ONLY.  ATM ON SITE.
CREDIT CARDS ACCEPTED AT THE SOUVENIR STAND & PIT SHACK ONLY.
(credit card surcharges will apply).
NO EXCEPTIONS
It's Free to Download and is the home to specials, discounts & more!  Download yours today and allow for notifications to stay in the loop at Sycamore Speedway!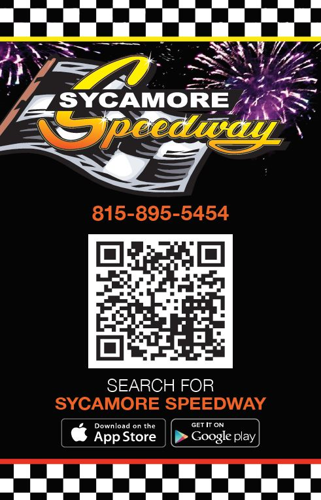 [